Check out what's going on inside CSRFoundation this month.
We have a winner!!  
Nick Hansen of www.dbrand4u.com has created for us the most beautiful and meaningful logo.  We are forever indebted for his patience, creativity and support. Thank you Nick!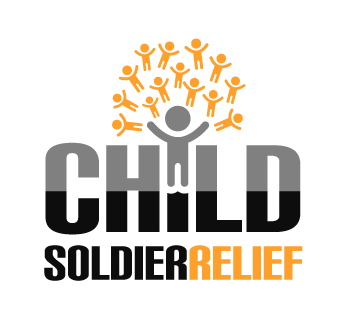 Interview with CSRF on the BeMeBetter Radio Show.
Christine Williams talks with radio show host Clark Clancy of the BeMeBetter Show on Talk 1260 KTRC New Mexico about Child Soldier Relief at http://cot.ag/mT2lOu.  We're looking forward to collaborating with Clark and his community of listeners in Santa Fe on future endeavors this fall and spring 2012.
Our yoga mat for Mandala House's fundraising event sells! 
CSRF donated a yoga mat painted by Christine Williams for Mandala House's June fundraising show.  The event was a success and yoga instructor Lenny Williams is off to DRC and Uganda this fall for more training programs.  Check out the mat below with the cherry blossoms.

Documentary film in development.
Speaking of Lenny and her work at Mandala House, we've assembled an amazing film team comprised of Karim Chrobog (director/producer of "War Child'), Hannah Rosenzweig (New York based documentary filmmaker and founder of Intention Media, Inc., and Nina Raj (UCLA film student) to follow her work in the next year in a documentary film being co-produced by Child Soldier Relief.  Check back soon to see our KickStarter page for more information.
CSRF meets up with Emmanuel Jal, Ishmael Beah, General Dallaire, Watchlist, Mandala House.
On our recent trip to NYC to attend General Dallaire's talk about his new book, we were thrilled to have made new friends and developed exciting relationships. Emmanuel Jal and CSRF will be collaborating on future projects around his Lose to Win Tour.  We had an excellent meeting with the Watchlist on Children and Armed Conflict and they are kindly providing support and advice to CSRF on our DDR program coalition building initiative and mental health program analysis.  And we were thrilled to talk to Lenny and Hannah about the upcoming film project (see above).
Introducing our two new partners: Johnny Mad Dog Foundation and Global Grassroots.
We are thrilled to be partnering with the Johnny Mad Dog Foundation, an organization that supports the young actors in the film Johnny Mad Dog, currently screening in the U.S.  The aim of the organization has since expanded to support other children who are victims of the 14-year long civil war in Liberia.  Our organizations will be working closely together this fall to bring screenings of the film, panel discussions, and fundraising events to the DC area.  For more information or to host a screening, please contact info@childsoldierrelief.org.
Gretchen Steidle Wallace of Global Grassroots is doing amazing work for women in post-conflict regions and we're excited to develop a relationship with her organization.  Global Grassroots supports conscious social change for women in post-conflict societies. Their Academy for Conscious Change is a 12-18 month social venture incubator, offering non-profit management skills, leadership training, personal transformation practices, seed grants and high-engagement support that enables vulnerable women change agents to launch their own grassroots solutions benefiting women and girls.
Upcoming.
Johnny Mad Dog Screening and Discussion.  September 11-12 at Wisdom and Church and State in DC.  Email us at info@childsoldierrelief.org for more information.
Learn about our three projects. Grant proposals are in the works for our 1) mental health program analysis with collaborator and researcher Claire Green at the Yale School for Public Health 2) our online education portal – a multi-media educational and social networking hub being developed in collaboration with curriculum developer Sheila Sundar, and 3) our global coalition-building tool that will serve as a virtual meetingplace for organizations to come together and share experiences, resources and build networks and alliances.  Email us for more information on how to support these projects at info@childsoldierrelief.org.
Website development. We're currently undergoing development of our new website – check our Twitter updates for ways to support this project.  And thank you so much for those who have already helped us raise the necessary funds to match an in-kind donation from our design team at New Target!  Check out our Causes page for more information on how to support this effort.
Filed under: Human Rights